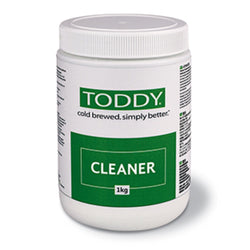 New Toddy® Cleaner is specially formulated for cold brewing as a one step cold brew system cleaner. Ensure your system delivers consistent quality cold brew with routine cleaning that will not impart any flavor in your cold brew.
Toddy Cleaner works with all cold brew systems, including the Toddy Cold Brew System, the Toddy Cold Brew System - Commercial Model, and the Toddy Cold Brew System - Pro Series.
Easy to use, Toddy Cleaner is designed to dissolve in hot water in your system - let rest for one hour with any cold brew accessories inside, then simply drain and allow all parts to air dry rather than drying with a towel or rinsing. Then you are ready to brew again!
Sold in 1kg size. Includes measuring scoop and instructions.